Discovery Park | Sacramento, California
This fall, the friendly city of Sacramento becomes the home of the most exhilarating, power-packed music extravaganza of the season! This incredible hard-hitting showdown, titled the Aftershock Festival, is a four-day spectacle that's definitely worth your time! Well, what do you expect when you have the world's hottest rock and metal bands in one line-up? You can only imagine the pandemonium as these purveyors of headbang-worthy music all share a stage in one weekend! From October 5 to 8, 2023, the Aftershock Festival will conquer the Discovery Park in Sacramento! This massive music fest will be headlined by rock and metal giants, such as Incubus, Avenged Sevenfold, Pantera, Tool, Godsmack, and Limp Bizkit! On Saturday, Oct 7, and Sunday, Oct 8, the mainstage will showcase legendary bands, such as Korn, and Guns N' Roses, along with Turnstile, 311, Queens of the Stone Age, and Rancid! Apart from these headliners, the festival will also feature countless other iconic bands! So be ready to rock and prepare your gear because there is no rest for the weak at the Aftershock Festival 2023! Hurry and score tickets now to experience this monster music fest!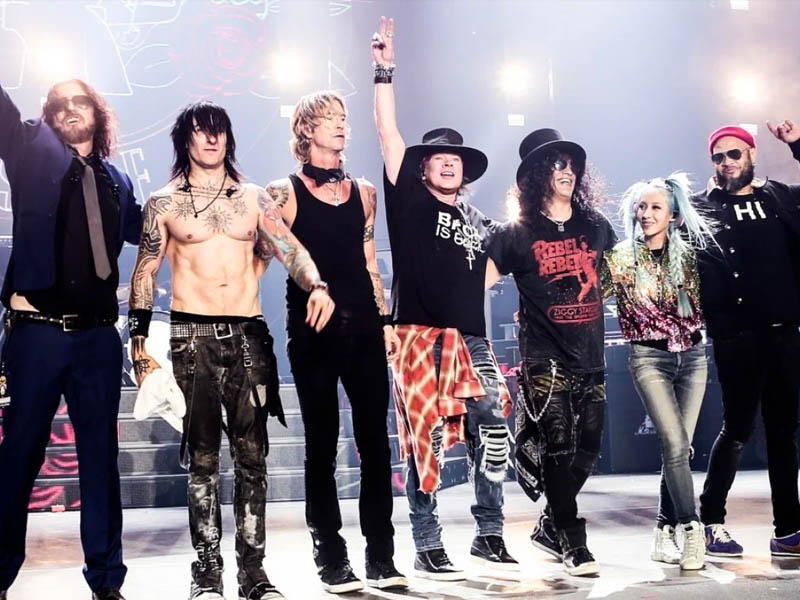 The Aftershock Festival starts on Thursday, 5th October, with a bang! The event will set the stage for headliners Incubus, Avenged Sevenfold, and Pantera. These three bands may be an unlikely combination. But this eclectic mix will surely give you your metalcore, alternative, and groove metal fix in one single night. Incubus rocked the music world during the early 2000s with their addictive hits, "Drive," "I Wish You Were Here," " Are You In," "Megalomaniac," and more.
Meanwhile, another 2000s icon Avenged Sevenfold, blessed fans with M.Shadow's impressive vocal range and Synyster Gates' out-of-this-world guitar solos. Lastly, Old school metal fans can look forward to Pantera's iconic '90s hits, such as "I'm Broken," "5 Minutes Alone," "Cemetery Gates," and "Walk." The band had a long history of challenges, including the passing of vital members, brothers Dimebag Darrell and Vinnie Pual. Still, the band continues as original members Rex Brown and Phil Anselmo bring in Anthrax's Charlie Benante and Zakk Wylde to fill the void.
The festival's Day 2 is absolutely a day you don't want to miss. The stage will feature hard rock legends Godsmack, progressive rock powerhouse Tool, and nu-metal icons Limp Bizkit. The second billing also brings in a lot of big names like Megadeth, Coheed and Cambria. Rock band Skillet and Bad Omens have also been known to pack in crowds by the thousands, so expect Discovery Park to be filled to the brim on this day. Lastly, it's worth pointing out that the line-up also includes the Mongolian folk metal band, The Hu. Last year, they released their latest single, "Black Thunder," in collaboration with System of a Down's Serj Tankian and Bad Wolves' Daniel Laskiewicz.
The Aftershock Festival's third day features all the favorite rockstars to have graced the pages of Metal Hammer and Revolver for the past two decades. These include Korn, Turnstile, 311, Parkway Drive, Polyphia, The Amity Affliction, and more. Japanese kawaii metal band Babymetal joins the line-up on Saturday. The stage will also see the highly-anticipated return of Dethklok, featuring Metalocalypse's creator Bredon Small as vocalist and guitars. Esteemed musicians, such as the human drum machine Gene Hoglan will also Small on this much-awaited appearance.
Lastly, Day 4, which will happen on October 8, Sunday, will feature the legendary rock band Guns N' Roses. The band made history in 2015 as one of the biggest reunions in rock history when Slash and Duff McKagan rejoined the band. In 2016, the group embarked on the Not in This Lifetime.. The trek's title is based on lead singer Axl Rose's response to the media after he was asked about a possible reunion in 2012. Guns N' Roses will be joined by Queens of the Stone Age and punk band Rancid. Mainstream rock fans can also look forward to a performance by Daughtry, while pop punk heads can enjoy the sets of Mayday Parade, You and Me at Six, and more!
Now, isn't that a power-packed line-up or what? If you don't want to miss a single moment of this fantastic music festival, you better score your four-day pass now!